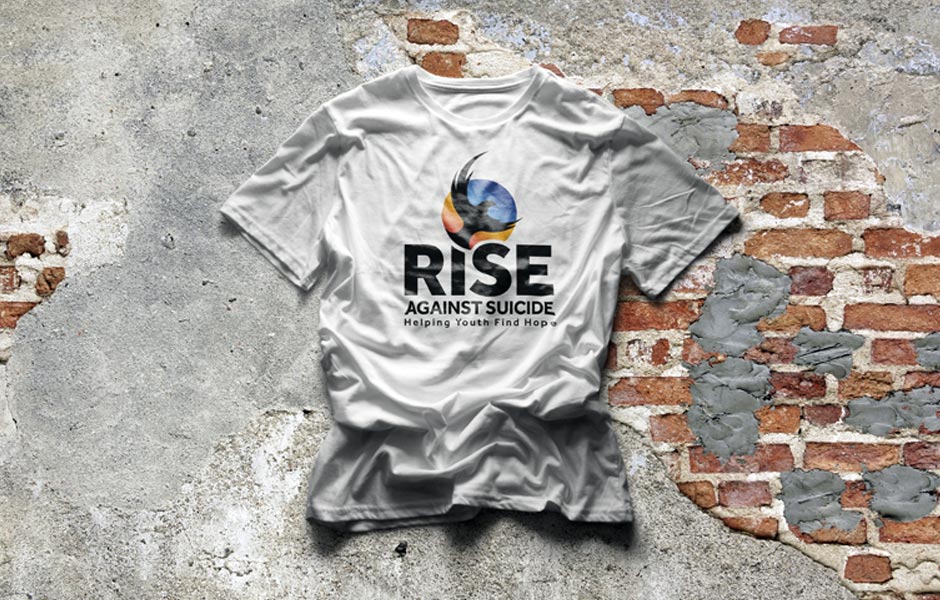 This brand logo design project for Rise Again Suicide was part of a larger rebrand and name change for the nonprofit Second Wind Fund of Boulder County, which was founded in 2009. Cloudburst was hired to explore and finalize new brand logo designs for the organization, to be reviewed and approved by their board of trustees. Rise Against Suicide is dedicated to providing children and youth at risk of suicide with access to the mental health services they need and deserve.
Brand Logo Design Considerations
One of the goals of this brand logo design project was to create an iconic and recognizable logo and brand for the new organization. The logo design needed to connect and resonate with both the parents, and their kids, in a way that is approachable and positive, especially given the serious nature of the topic. Over time as brand recognition increases, a more compact version of the logo and iconography will be viable, using only the RISE text and bird icon.
The flying bird icon is intended to evoke the image of a phoenix rising. This is symbolic rebirth, hope, renewal, progress, end of oppression, and eternity, and connects directly with the mission of the organization. The vibrant colors selected behind the bird iconography also connect directly with the strong emotions of anger/struggle (red) and peace/serenity (blues). This area of the design also evokes the sun & moon, and brings a strong element of color to the design, as well as helping the phoenix stand out against it.
Logo Design Asset Delivery
The brand logo design assets were delivered to the client in a variety of formats for both web and print applications.  This included PNG raster formats with transparency, EPS and PDF vector formats for scalability, as well as the Adobe Illustrator source files for the design.  Additionally, logo designs were provided as inverted color versions for use on dark backgrounds, and designs without the tagline for usage at smaller sizes where legibility could be an issue.
About the Client
Rise Against Suicide provides important access to counseling services for at-risk youth struggling with suicidal ideation in the Boulder Valley School District (BVSD) and Saint Vrain Valley School District (SVVSD), in the front range of Colorado.